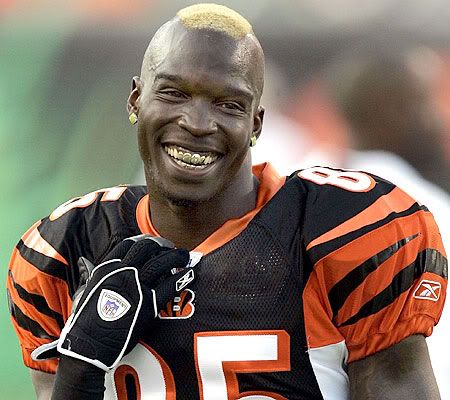 Football player/entertainer-extraordinaire Chad Johnson has legally changed his name to Chad
Ocho Cinco
so that he can display the self-appointed nickname on the back of his Cincinnati Bengal jersey this season. Since the name change is legal, the NFL can't penalize him for this.
This is just the latest of many stunts by Johnson (
my favorite
being a foot race against a horse last year --which he
won
!) to try to remind the league that football is still just entertainment and that it shouldn't take itself so seriously.
Good for him.
I hope more players take this initiative and maybe we'll get to hear Al Michaels say something like this:
Cheese Pizza snaps the ball to Cooter-Scooter. He drops back and fakes the hand-off to Boogie King. Lil' Cri-Cri covers the blitzing linebacker, Pop Off, and holds him, huh, off. Lollipop Lick'em comes open on the sideline, catches the pass from Cooter-Scooter and gets pushed out of bounds by Slim Pecka. So, it's Cooter-Scooter to Lollipop Lick'em for a 27-yard gain. We'll be right back after these messages...